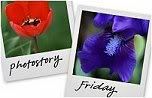 Hosted by Cecily and MamaGeek


So I was tagged by my friend
Cid
to participate in a photo meme, and I thought it was so fun, that I would share it on my very first Photostory Friday as well. I had to look up my very first file of photos on this computer and find the 10th photo.
And this is what was there, I kid you not, just in time for Father's Day:
See how fuzzy that photo is? We were having problems with our first digital camera, the flash timing was off. But this photo says it all. It was taken during a staycation in the spring break of 2004, before I got pregnant with the girlie. We've always loved to take the kids downtown Toronto, and this time we stayed at the Royal York hotel, brought the boy with us to a fab dinner at Biff's (where he slept the whole time). He wasn't yet four years old. If they were to sit in the same position now, hubs back would be broken, or severely dented. That boy now goes up to my ear and weighs 72 lbs.

And look at the man, with his beer. What more could a guy want, a great pint of brew, and his little boy on his lap. Turned out that Remy's in Yorkville, the place where we'd occasionally go as singletons, was growing up a bit too. Quite family friendly.


For this photo meme I tag the following blog buddies...

*****

I wish I weren't so organized sometimes:
I found this card last year for the kids to give to Dad
this
year. I had two cards, because this one was so perfect I had to get it as well. He would have loved it.
Mom is going on a trip up north for the weekend with friends. I am very happy for her. The little brother and wife are going to a wedding tomorrow so we've got my cutie niece for a sleepover. My sister and her family are off to their weekend retreat.
How I wish we were all together again like we were last year. And not scattered, as we try to avoid yet another family gathering, where the grief and sorrow of missing him is just too much for us to bear.
How I wish.